Halloween is almost here, and we all know how fun this time of year can be for kids and adults alike. Since Halloween is one of our favorite holidays, we're celebrating by sharing inspirational photo editing methods to enhance themes of creepy, mysterious, or spooky. In the article below, pro photographers Jay Cassario and Sharon Covert share their techniques for enhancing otherworldly themes in their images with Exposure.
Mystical Monochromes with Sharon Covert
Conceptual fine art self-portrait artist Sharon Covert is a visionary educator and photographer. She's always had a fondness for dark, mysterious images, which she has made the main editing goal for all her work. Her photos create captivating unearthly moods, which she emphasizes in her edits in Exposure.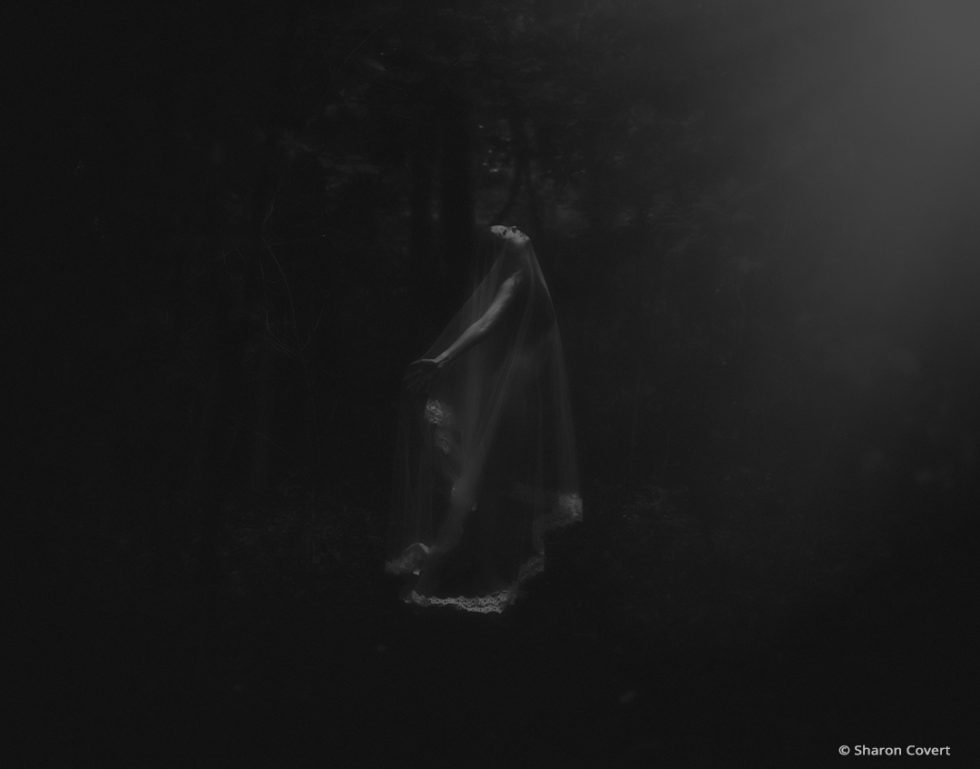 One of the first edits Sharon usually makes is to darken the exposure of the image. This adjustment decreases the amount of ambient light filling the scene, including the appearance of any distracting elements in the background. Sharon then punches up strategic highlight areas with Exposure's brush tool, such as the details on the skirt and veil. Then, she selects a preset from one of her favorite families: Polaroid 55. The Polaroid 55 options add an even darker tonal shift to the blues and greens in these photos specifically, which further separates the subject from the background elements.
Sharon always introduces one of Exposure's subtle light effects in the corner of her photos. She keeps the opacity value low so the effect is delicate enough that you won't notice it unless it's pointed out. Sharon has been adding corner light effects to all her self-portraits for years. It's one element of her signature look.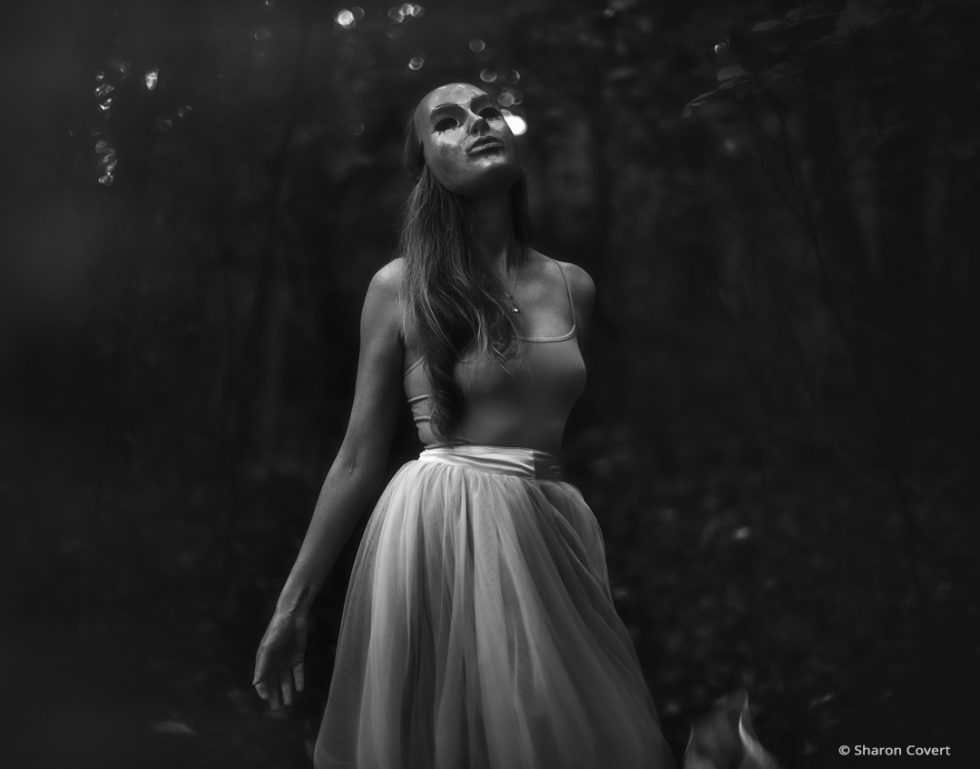 Sharon Covert's work has been published in Click Magazine, The Sun, Adore Noir, SHOTS Magazine, and in several juried art exhibitions from around the world. Her driving goal is to share and teach women about the healing benefits of self-love and self-exploration through self-portraiture. Head over to her website to learn more or follow her on Instagram.
Haunting Color Scenes with Jay Cassario
Leica ambassador Jay Cassario is a respected wedding and portrait photographer, educator, and contributing writer for SLR Lounge. One of his main objectives as a photographer is to tell a unique story through his images without saying a word. Exposure's editing tools enable Jay to make his photos tell a complete story, including any eerie tales of allegedly haunted shoot locations.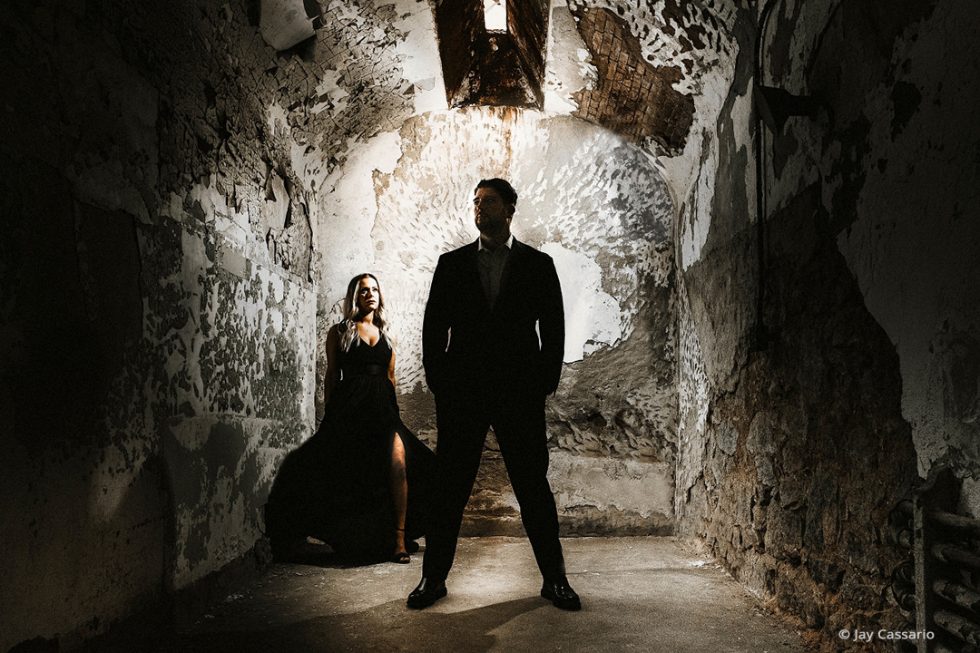 Eastern State Penitentiary was closed in 1971 and is considered by some to be one of the most haunted places in America. Jay shot a newly married couple in that location, which uniquely juxtaposed the ideas of their new lives beginning together and of death.
The well-dressed couple clearly don't belong in that decaying location, which implies uneasy feelings like they are trespassing where they shouldn't be. Jay increased the contrast on the photos in Exposure to emphasize the texture in the crumbling prison walls and to clarify the outlines of the couple. He also added grain to reinforce the gritty feel of the building's deteriorating condition. These editing adjustments helped set the mood of the newlyweds visiting this nightmarish location.
To make the subjects pop with detail, Jay increased the clarity. He controlled the application of the clarity effect using the brush tool. As a final touch, he deepened the shadows to crush the mid-blacks and clearly separate the subject outlines from the background texture. The silhouettes from this shoot also suggest the idea of trapped souls that haunt the property, which helps the mood read particularly well.
Jay Cassario is a creative and artistic wedding photographer based out of South Jersey. His focus is unique storytelling through the photographs he captures. He is known for his beautiful imagery and his unique processing style. Learn more about him on his website, or check out his work on Instagram.
Try Exposure Today

Download our free 30-day fully functional trial and see why Exposure is the best photo editor for creative photographers to realize their artistic vision.