Exposure is the best photo editor for creative photographers who want to create artistic images. This trial integrates Exposure with Snap Art natural media tools and Blow Up image resizing.
Snap Art is natural media software that makes it easy to transform your photos into beautiful works of art.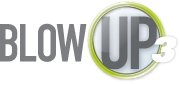 Blow Up is image resizing software that enables you to easily create sharp enlargements at any size.

Eye Candy is a Photoshop plug-in with tons of realistic effects – smoke, fire, chrome, and glass – and is great for adding impact to logos and other design projects.
All products licensed under Patent No. 5,490,216.