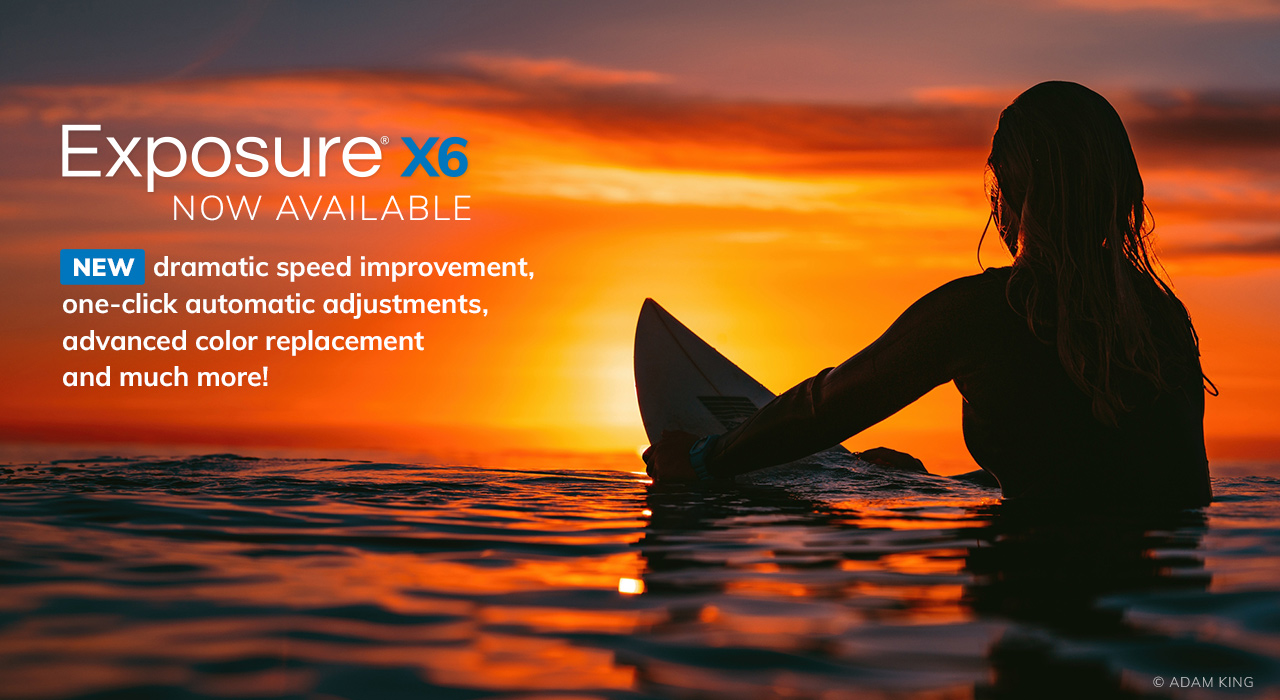 We are delighted to announce the release of Exposure X6! It's the latest version of our professional image editor for creative photographers.
---
Here are some of the exciting new features:
New GPU optimization leverages the full power of your computer hardware to dramatically speed up image processing.
One-click automatic adjustments select optimized values for white balance, exposure, haze level, contrast, and tone.
Enhanced shadows and highlight processing is now more reliable, consistent, and accurate.
New profile guided noise reduction eliminates noise based on camera sensor characteristics.
The Advanced Color Editor builds on Exposure's innovative 3D masking to enable vastly greater control of color modifications. Perform sophisticated color replacements in just a few clicks.
Updated user interface provides a refined, modern aesthetic.
New haze level slider counteracts contrast decreases caused by atmospheric haze.
New mask visualization options.
DNG converter integration enables conversion to DNG format manually or automatically when copying from a camera card.
The new user manual complements our video and in-product documentation.
Upgrading from Previous Versions
Exposure X6 is available at a discounted price of $89 to owners of previous versions. If you purchased Exposure X5 on or after July 15th, 2020, we will be sending you a free upgrade to Exposure X6 soon.
Buy Exposure Today
No subscription is required. When you purchase Exposure, you own it forever.
Try Exposure Today

Download our free 30-day fully functional trial and see why Exposure is the best photo editor for creative photographers to realize their artistic vision.