Andrew Foord, returns to the blog with encouraging suggestions to help you through inspiration plateaus. If you missed out on his other articles, check them out, here and here. The remainder of this article came from him. Thanks, Andy!
—
What's the best thing to do when you get photographer's block? Shoot something! Recruit friends, family, bring the dog, bribe your neighbors, order a pizza and kidnap the delivery person. Whatever it takes. Get out there and start clicking.
This is exactly what I did for this series. First I blackmailed begged a model friend of mine to pose for me, then I put a post on Facebook asking if anyone wanted to throw water on a model and learn something about photography. I didn't specify the gender of the model–I thought it might help get more responses. I got 3 responses on Facebook, and my team was complete.
The Location and Lighting Set-up
If you're like me, you have a 2000 sq ft. studio with roof access, an indoor pool, and lots and lots of big windows–I WISH! In reality, I usually shoot in my garage even though its tough to set up lights around the garage door opener. Sometimes I'll shoot on location in a public place. For this shoot, my location couldn't have been easier, or more budget-friendly, I used the street in front of my house.
For lighting I used 2 strobes with reflectors and grids, both were high up on stands to ensure the water wouldn't reach them; always err on the side of safety then mixing water and electricity. The strobes were placed on either side of the model, the main aimed slightly in front and the other slightly behind. I set them both to pop at full power.
Next, I metered the light. I use a meter religiously. Proper procedure is to put the light meter underneath the model's chin and aim it at the light, not the lens. My shutter speed was set to 1/125 with 100 ISO. The meter gave me an aperture of 5.6. I repeated the above steps for the 2nd strobe to confirm the results. Setup time, including running extension cords, setting up the lights, and metering took about 20 minutes.
The Fun Part
With my camera settings in place I was ready to shoot. By this time, I'm getting excited. Now I finally get to play photographer. I had two water throwers stand opposite each other next to the light stands. When I counted to three, I had them sling the water at the victim.
My camera settings were spot on, the lighting looked great, but my timing was off. This happens more than I'd like to admit, but it's something that everyone has done before. Don't panic. My 'keepers' rule of thumb is for every 100 photos I take, I want to get about 10 keepers. Out of the keepers, I'm happy with one shot that makes me say "Wow."
Retouching
Below are two of my choice photos of the set. Yes!–one of them is out of focus. Was it intentional? Absolutely not, but I am drawn to it, and that's all that matters. Don't listen to anyone else's opinion when it comes to your creativity. You're the artist, your opinion is the only one that matters on personal projects. When you're working for a client, their opinion trumps your own.
After I selected my favorite photos–9 out of the 50–the retouching portion was very straightforward. I did some minor sharpening and added a color cast with Exposure. I used the preset Kodachrome – Cyan Shift, one of my favorites. I completed the shots by cropping the photos to 5×7 and square.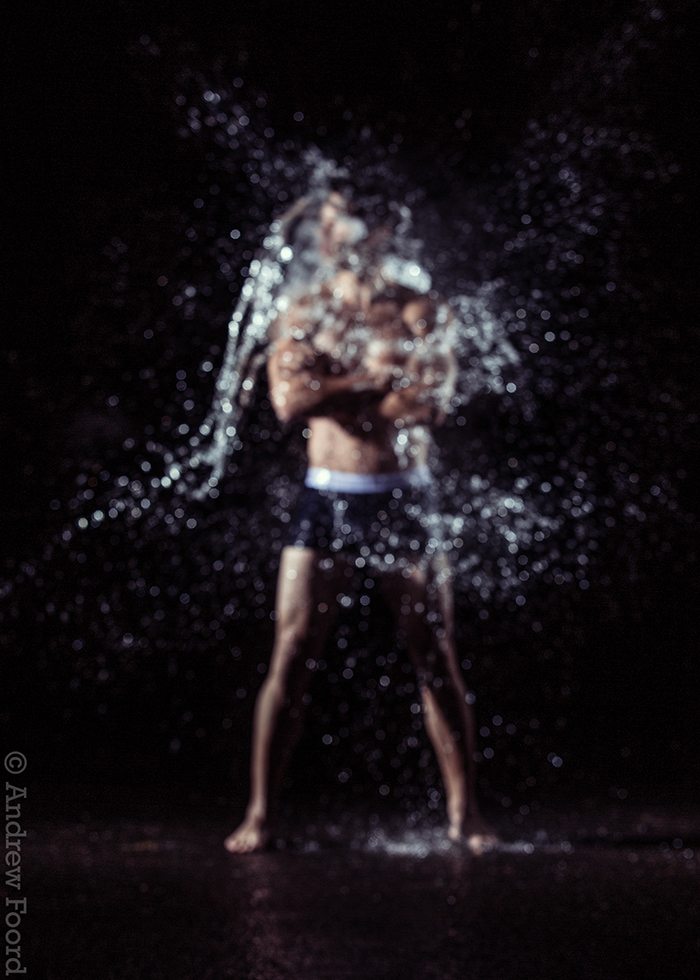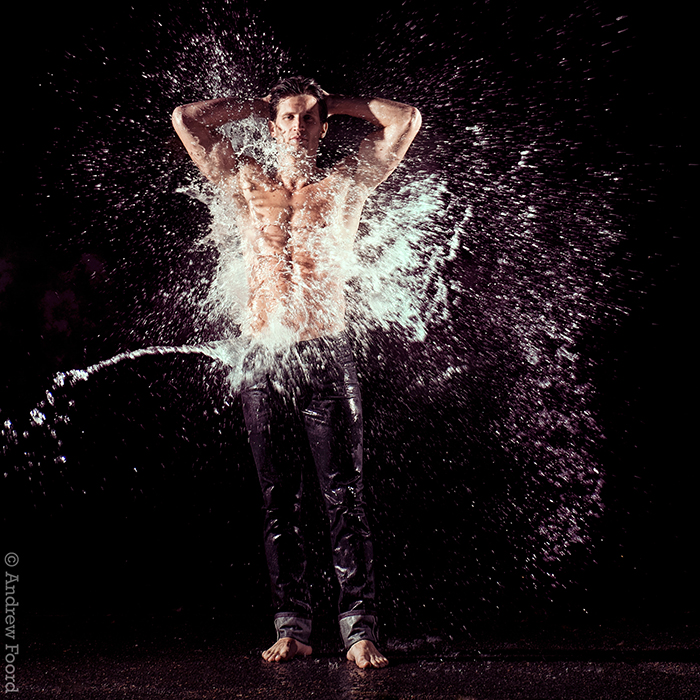 Conclusion
When photographer's block hits, just like it does to everyone, try something new. Give a new lighting setup a try, you're welcome to use what I did. Grab a couple of buddies and have your own water splash shoot. Dust your camera off and shoot something, anything! Get friends and family involved, but most importantly have fun.
Try Exposure Today

Download our free 30-day fully functional trial and see why Exposure is the best photo editor for creative photographers to realize their artistic vision.