I recently had the opportunity to chat with last year's Equine Photography Contest winner Patrick Brennan. It was such an inspiring story that I feel obligated to share it with you. He also shared a sample workflow for his favorite uses of–you guessed it–Exposure. Check it out below.
Sample Workflow 
In preparing images for upcoming contest I planned to enter a shot in the Black and White category of the Equine Photography Contest. Exposure works seamlessly with Lightroom, so it's a natural choice for me. It makes it really easy to integrate into my workflow, so I cull, crop and perform minor edits before bringing my shots into Exposure. The shot pictured above is just for demonstration–it's not the image I'm using in the Judges for Equine Ideal Spring 2015 Contest, but it's a similar process to how it's been treated.
I imported the RAW into Lightroom, fixed it up with a little crop and opened the shot in Exposure. After a bit of looking around, I went with Agfa AP 25. Overall, I was pleased with the look of the effect, but I needed to tone down the highlights on the lighter horse. My goal is to bring more of the texture out of the horse's coat. It was an easy fix, just one tweak to the highlights (on the Basic tab) and a little adjustment to the saturation. This brought out the subtle details that I was after. That's all that was needed. It was easy and quick.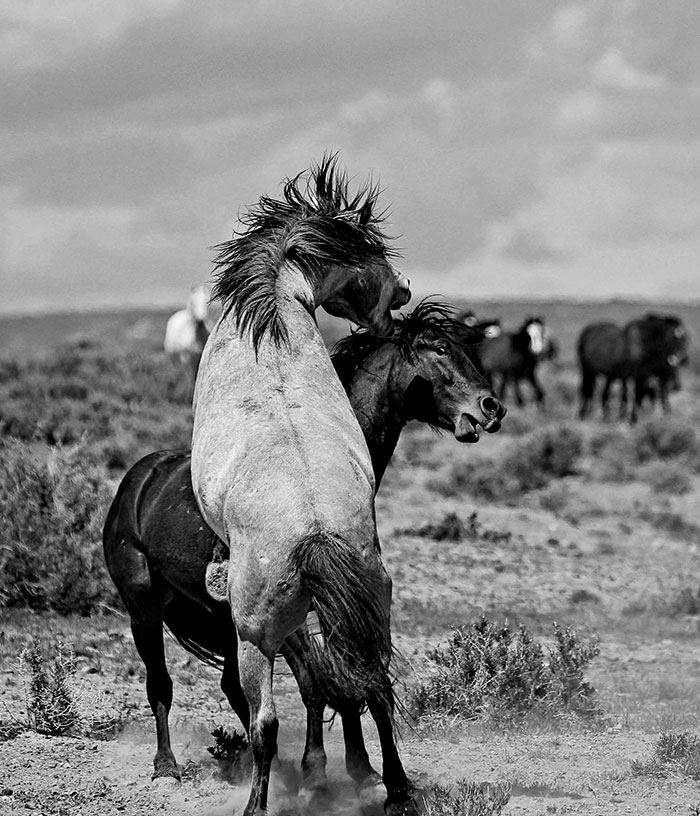 —
More about Patrick
A photographer's favorite tool might be a particular lens, camera, or software, but Patrick Brennan's favorite tools are his eyes. His vision was nearly compromised by a brain tumor back in 2004. Today, after a few surgeries, half of the tumor still remains. Fortunately, the remaining half does not impede his sight.
Patrick loves wild things—particularly the horse variety. He combines his equine photography skills with advocacy efforts to help preserve the animals' freedom. His images of wild horses have won national contests and several will be displayed in an upcoming exhibit at Denver's International Airport. Although born and raised in Denver, Colorado–, he's been all around the country. Along his travels, he fell in love with photography. Read on to hear about his amazing journey.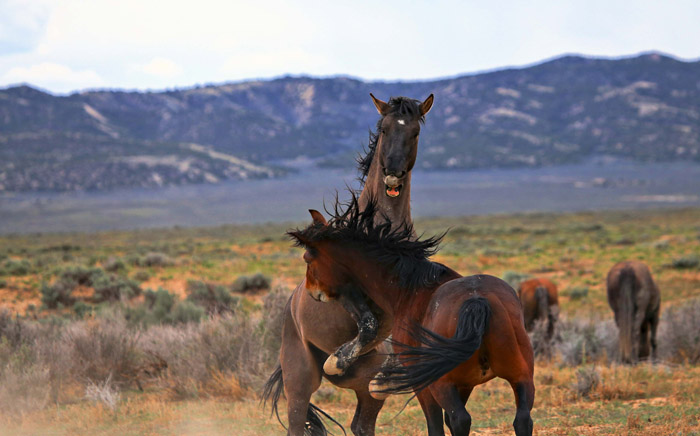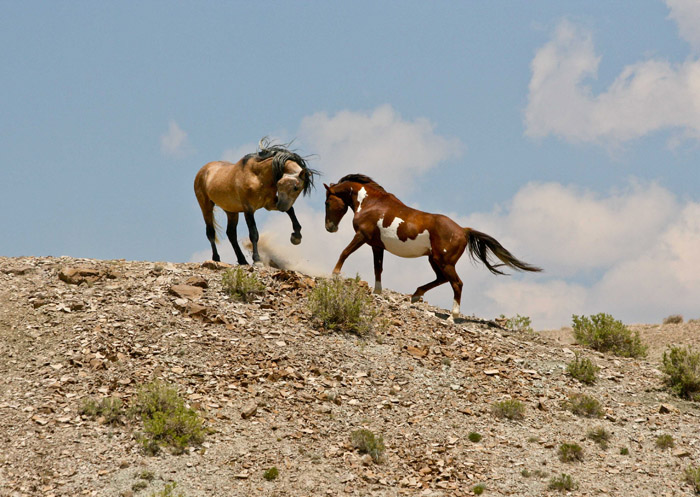 I've had to stop doing most of the other parts of my photography business (portraits, weddings, etc.) due to my health. As a brain tumor survivor, I have a lot of doctor appointments and medications to take, but I'm still here! I fully believe photographing the wild mustangs of Colorado's Sand Wash Basin has helped me combat my physical ills.
From Hobbyist to Professional
I started photography as a serious hobby in 1984 after a trip to Japan. It wasn't until 2007 that I started to do it professionally. I was recouping from my brain tumor when I started taking pictures of surfers in North Carolina. Then the local surfers started buying my photos. In 2009, I started shooting equestrian horse shows because my niece was a big time competitor in that world. In 2010, I had my first shoot with the wild horses—I was hooked. Some of my equine photography work has been chosen for a display exhibit "The New West" at DIA. The exhibit is open October 2015 to March 2016.
I love photographing the wild stallions fighting and the new baby foals each spring. Sometimes I shoot a horse event called Gymkhana, which is a combination of barrel racing, key and poles. Lots of action. I do photograph my grandkids—they're hard to control too!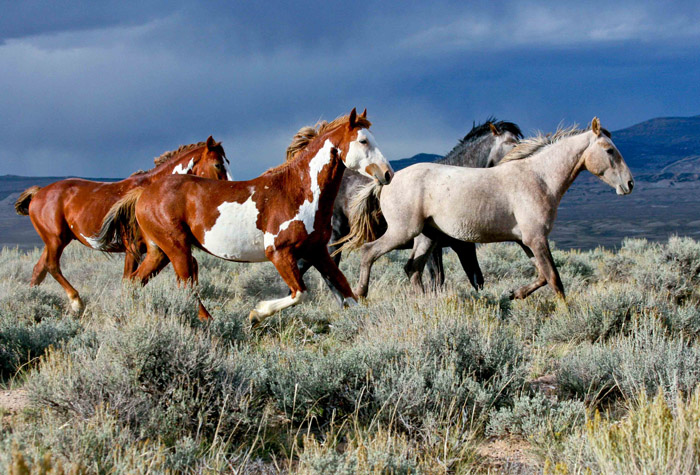 How I shoot & edit
For the wild horses, I find the Canon 100-400mm is my workhorse. It allows me to really zero in on the action when stallions start fighting or running their bands at high speeds. I'll use the Sigma 150-600mm on my next trip as part of a field review for Lens Giant–the company that I rent all my camera gear from.
I want images that I post on my website to be sharp—especially when the shots are intended for a photo contest. Lightroom is my base program for post-editing; loaded in Lightroom are Alien Skin's Exposure, Blow Up, and Snap Art. I love the way that I can integrate these programs directly in Lightroom. I hardly touch Photoshop any more. These programs allow me to do things to my photos that used to take an awful lot of fumbling in Photoshop. Now my workflow is easy, quick, and above all effective. I had no idea how much further I could take my photography until I added these programs to my editing workflow.
Biggest Challenge
The hiking. Constantly avoiding rattlesnakes. Lots of snakes where the wild horses roam! Sometimes you have to hike three miles out and three miles back after you've spotted a band of mustangs through binoculars. It could be 90 to 100 degrees in the summer.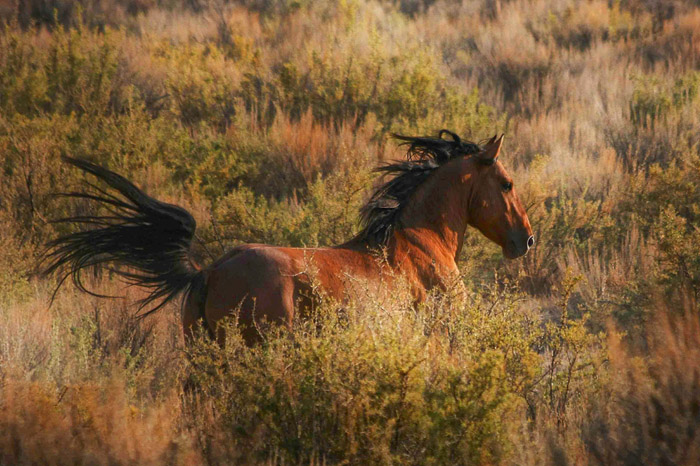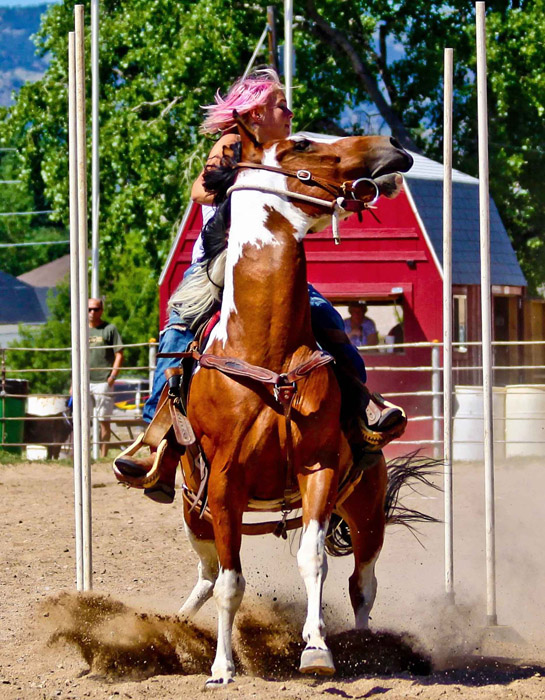 How else do you use your creativity?
I've written a book The Three Amigos of Sand Wash Basin and produced a children's book The Three Amigos of Sand Wash Basin Present the Story of Kissy with the help of a writer and a host of wild horse artists.
I teach small groups with other wild horse photographers. Individuals should never go out to the wild horses on their own the first few times. It is dangerous and they won't have the best experience. We know the best spots on the 162,000 acres of the Horse Management Area. I also go into schools with a presentation about the wild horses, do a children's book reading, and donate the book to the school library.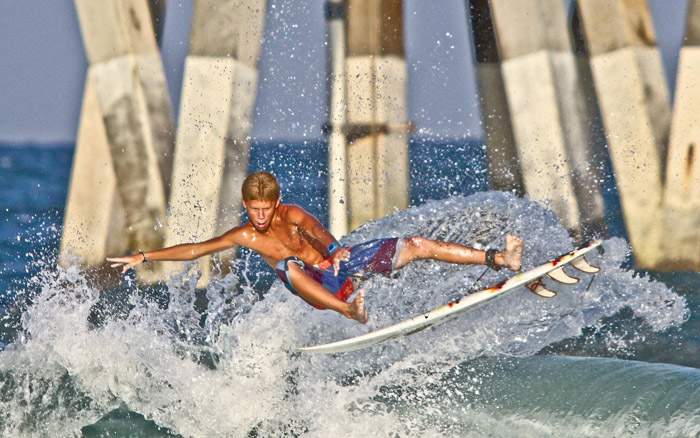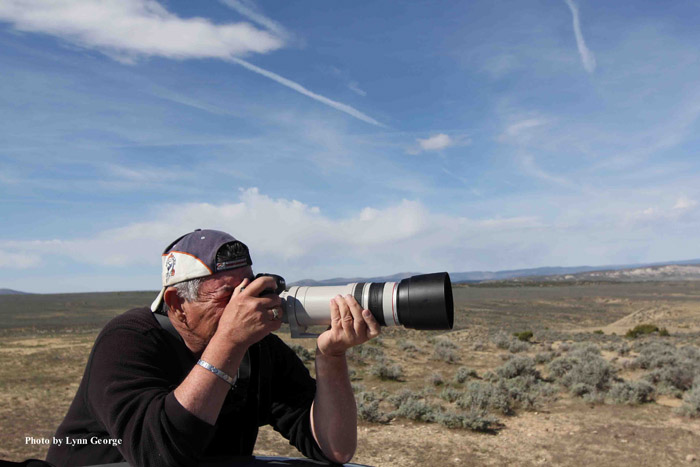 Photography Advice
My college photography professor gave me really valuable insight on photography: "You always learn more from your bad photos than you do from you're really good ones." I have found that to be so true!
—
The Equine Photography Contest
Photo contests aren't just for the top elite professional photographers out there–well, some are–but there are there are plenty of them for normal, everyday shutterbugs out there like you and me. What's great about them is that you can easily find contests that focus on your fave niche. Did you see what I did there?
For you fans of four legged beasts of burden, I have some great news. The annual Equine Ideal photography contest is underway over at equinephotographycontest.com. They have bunches of categories in both professional and amateur divisions. Take a peek at how you can be part of it. The deadline for entries is June 28.
Alien Skin sponsors the contest with prizes for the winners. We like to be involved, especially when it comes to awesome photos like the ones you see in their contests. Might be worth a shot. *pun intended*
-jimmy out
Try Exposure Today

Download our free 30-day fully functional trial and see why Exposure is the best photo editor for creative photographers to realize their artistic vision.