As part of our 25th anniversary celebration, let's look back through the history of our award-winning advanced photo editor and organizer, Exposure. It has evolved a great deal since its first release. We'll show you how each release brought it closer to the amazing photo editor you know and love today.
2005: Exposure
We launched Exposure as an all-new plug-in for Adobe Photoshop that brought the look and feel of film to digital photography. It enabled photographers to recapture the look of analog film, which had previously been impossible to do in a digital workflow. The first release featured our first batch of film presets, grain, color toning, and even cross-processing.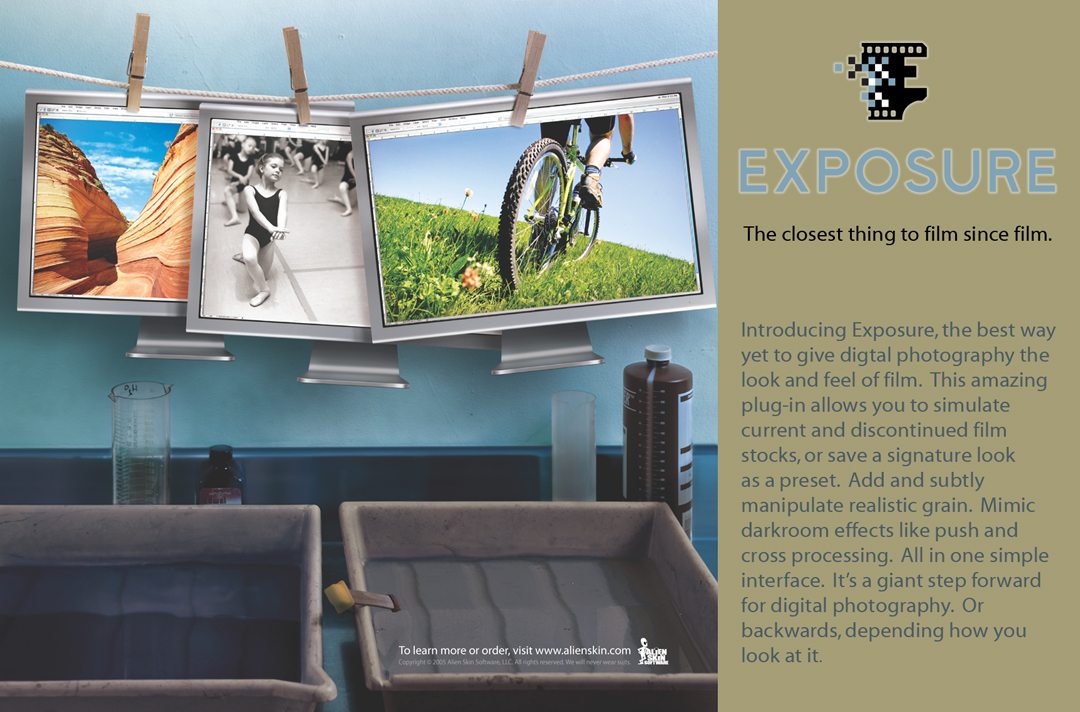 2007: Exposure 2
A primary focus of Exposure 2 was adding new film emulations. Many photographers lent their expertise and shared samples of their favorite films so we could add them to the product.
More presets – now there are more than 200
Auto grain size
Expanded grain controls
Enhanced presets organization
Photoshop Smart Filter support
Improved Infrared simulations
2010: Exposure 3
Exposure 3 was all about tight integration with Adobe tools. In this version, we introduced support for Lightroom and added 64-bit support for compatibility with Photoshop CS5.
Even more presets! Exposure 3 shipped with over 500.
Lightroom support
64-bit multithreaded processing
New vignette tool
Expanded dust and scratches
2012: Exposure 4
Speed and ease of use were the main goals of Exposure 4. In this version, the separate B&W and color filters were combined for the first time.
Preset hover preview
Texture effects
Color channel controls
Black and White color filter ability
Split toning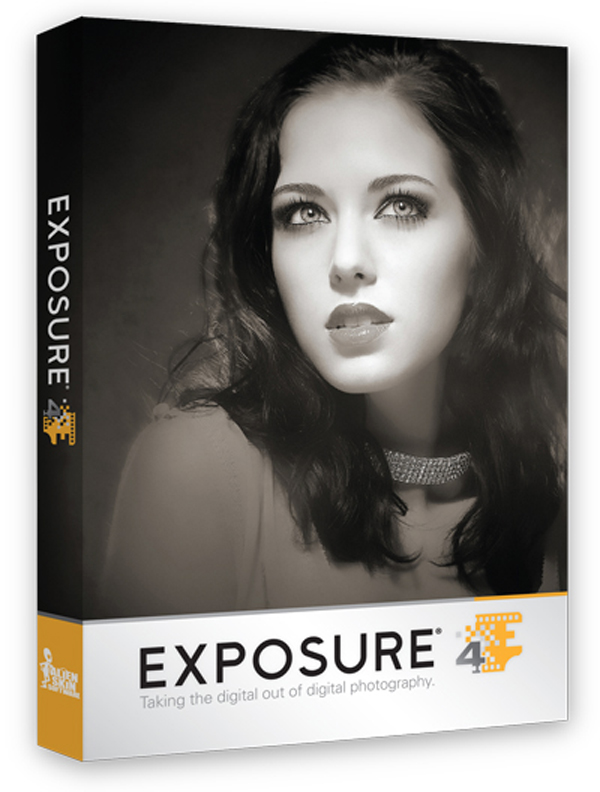 2013: Exposure 5
We introduced Exposure as a standalone app in version 5, allowing users to run it without Photoshop or Lightroom.
Visual preset browser
Hide/Reveal panels
New controls for overlays
New textures
2014: Exposure 6
We completely integrated Bokeh, our creative focus plug-in, into Exposure 6, along with major improvements to the user interface design.
Basic control panel
Full-sized previews
Syncing presets via cloud
2014: Exposure 7
We redesigned the user interface in Exposure 7 for lightning-fast file browsing, making photo management simple.
Crop and rotate
Full-featured file browser
Updated split toning presets
More texture overlays
New Color film presets
New B&W film presets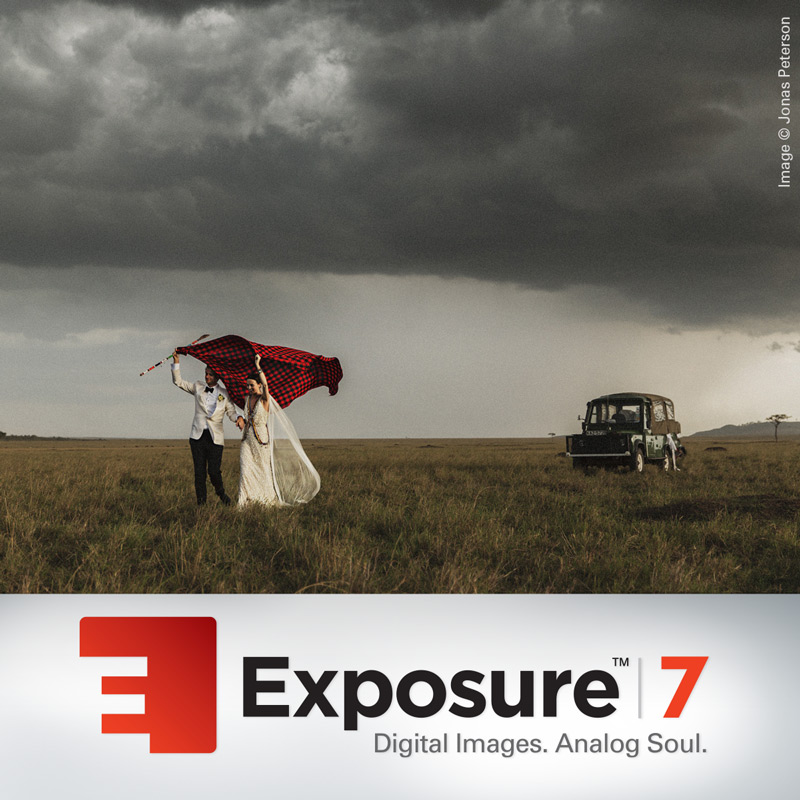 2015: Exposure X
We transformed Exposure into a complete photo editor with the release of version X. New photo organization tools, greatly expanded RAW camera support, and more editing options were the theme of this release.
White balance eyedropper
Tint and Temp sliders
Sharpening
Noise reduction
Brush tool
Configurable interface elements
Multiple monitor support
2016: Exposure X2
Our efforts for version X2 focused on further expanding Exposure's photo organizing and editing capabilities.
Spot Heal tool
Histogram
History panel
Metadata search
File renaming and image resizing options on Export
Support for PSD format images
Lens distortion correction
2017: Exposure X2 Advanced Layers Update
The Exposure X2 Advanced Layers Update was a free update that added a full-featured layering system to Exposure.
User-definable quick export recipes
High DPI monitor support
New file naming and destination export options
Manual lens correction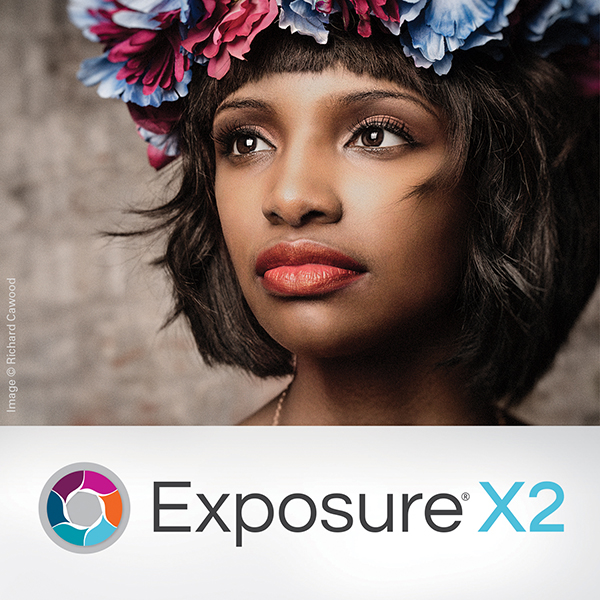 2017: Exposure X3
Exposure X3 featured new photo organizing and editing tools that further enabled it to function as the central app in a photography workflow.
Virtual copies
Keywords
Collections
Side-by-side view
Linear and Gradient tools
2018: Exposure X3 Complete Workflow Update
The Exposure X3 Complete Workflow Update was a free update that incorporated user feedback and refined the tools that we added in X3.
Hue, saturation, and luminance controls per color
Expanded keywords and collections abilities
Temp controls in Kelvin
Printing
Conclusion
Thanks for taking this trip through Exposure's timeline with us. We're committed to continuing to make Exposure the fastest way to bring your vision to life. We appreciate your wonderful support over the years, and we hope you'll join us for the rest of the journey!
Try Exposure Today

Download our free 30-day fully functional trial and see why Exposure is the best photo editor for creative photographers to realize their artistic vision.