Alien Skin's Blow Up image enlargement software enables photographers to easily create large prints that look great at huge sizes. We recently spoke with Raleigh, NC photographer Simon Griffiths, who uses Blow Up to provide local restaurants, hotels, and other retail spaces with high-quality large prints. He spoke with us about the image enlargement process, how to manage client expectations, and about the potential hazards of creating work that's good enough to steal.
How long have you been using Blow Up for image enlargement, and why did you begin using it?
I've been using Blow Up for 10 years now. I had been using a series of actions prior to using Blow Up that worked okay but were cumbersome and took awhile to process. In Blow Up, having the interface that gives me an idea of what the finished image will look like at 100% is a real plus.
I first started using Blow Up when camera file sizes were maxing out at the 10-12 Megapixal range. My first commercial use was in the enlarging of files of that size up to 6 feet wide. I then took composite images up to as much as 10 feet wide, printed on stretched canvas.
For my show a year and a half ago, I created 12 large fine art prints that were enlarged primarily from 32 megapixel files up to 40 inches in one dimension. The quality of enlargement was outstanding and in many cases looked like the images had been shot on large format film or digital.
I just finished a project for a client that required taking their small JPGs at 72dpi up to 18"x24" at 300dpi. I used Blow Up on all the images and the results were extraordinary.
I did some initial editing in Photoshop to bring out clarity and contrast and improve the look of images that were either old JPGs of prints, or just small digital files. I then imported the images into Blow Up and took them all up to the same size. The grain function of Blow Up allowed me to bring a more historic look to several images, which was the point of the project anyway. The client was ecstatic.
Can you walk us through the image enlargement process with a sample image?

This was originally shot on a Nikon D200, which is a 12 megapixal camera. It was blown up to a layered image that is 1.8Gigs, so it's six images stitched together. Then I used Blow Up to get it to a 60" wide print at 300dpi.
Even with the increased file size of the Nikon D800, I still use Blow Up when making larger prints, especially when the files I'm provided with aren't that large to begin with.
A lot of my older work is on film and I can scan it at fairly high resolution using my Imacon scanner, but even then if I need to make a large print, I'll use Blow Up to get it to the size I need with a DPI that tends to work better with my printer.
What was the learning curve like?
It's fairly intuitive, so I can't see that the learning curve is that hard.
If you use Blow Up as part of the Exposure Bundle, where does Blow Up occur in your workflow?
I only use Blow Up on a copy of my final image. Once I have made all my adjustments either with Exposure and Photoshop, I will save the file and then use Blow Up within Photoshop to enlarge the copy to whatever size is required, leaving the original file alone.
When you know you are going to enlarge an image in Blow Up, does it influence how you edit it ?
I don't use as much sharpening on my original if I know it's going to be enlarged greatly. I will wait for that step until either during the Blow Up process using the tools within Blow Up, or afterward in Photoshop. I like the fact that I can play with the before/after view to see what the effect will be within Blow Up. I also like to do that in Photoshop using a separate layer, after which I can go back to see which one works better.
What advice can you give photographers wanting to upsell existing clients or find new clients for large prints? How have you found your clients for these?
When asked to possibly make enlargements for clients, I will always photograph the space. Measure it correctly, then give them composite photographs with examples of what the images will look like on the walls to scale. It really helps sell the idea of large works of art. I used perspective, distort, and transform functions within Photoshop to correctly scale the images to the space where the image will hang.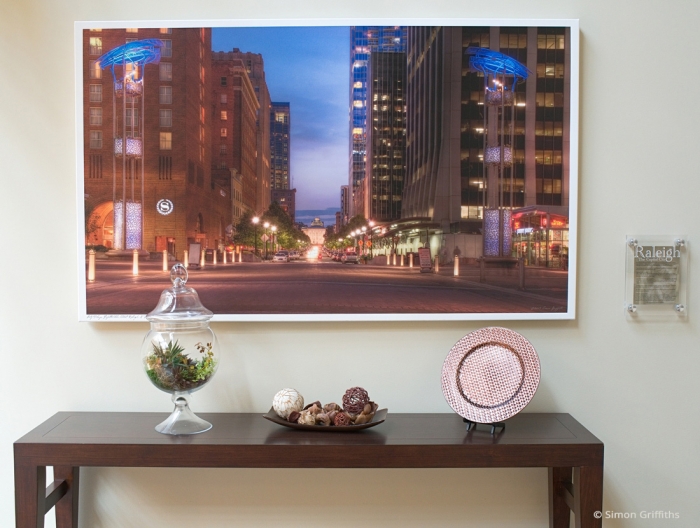 For any photographers who are new to image framing, what considerations should they be aware of? What do you look for when choosing a frame?
Although I've offered unframed canvas prints in the past, I frame almost everything now. Unframed canvas has to be absolutely perfect to come across as something better than you can get at Costco. Very few companies can provide a level of canvas wrap that is really clean and professional looking.
If you want clients to pay you a lot of money, then if they look at the materials used on the back of a canvas wrap, it can completely undermine your ability to charge a premium.
All my wraps are custom built with heavy duty bars. The wrapping has to be absolutely perfect and for a long time, I had a guy that was so good at it. His wrapping was a work of art. I either use black edges or create a white border on the face of the wrap. Now because I struggle to get the back of the canvas as clean as I would like, I almost always custom build a floating frame to wrap the image. It looks so much more professional. I prefer to offer framed prints as finished pieces for my clients. It allows them to see my vision in its final form.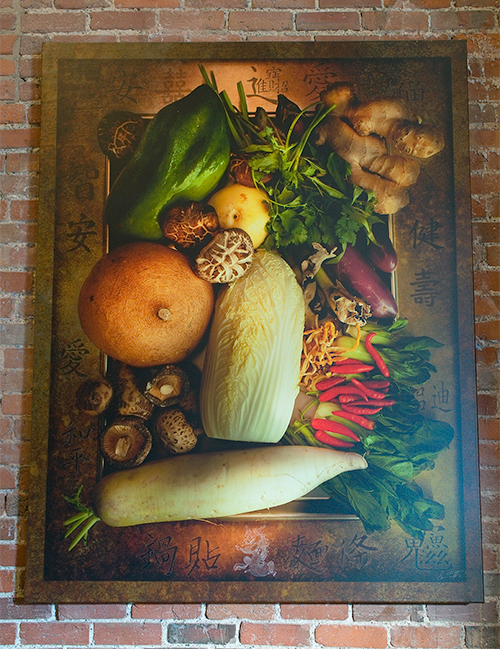 Do you use Blow Up exclusively for commercial work to clients, or do you also use it for image enlargement work for family and friends?
I don't distinguish my work separately, whether it is for me or my clients. I am a BIG believer in personal work. Much of my work is personal. It drives my creativity and as such drives the kind of work I get from clients. If your portfolio is based on the work you did for clients yesterday and last week, then the work you get tomorrow and next week will likely be the same or less creative. If you show work in your portfolio that is creative and personal, then it starts to drive your work that you get tomorrow and next week.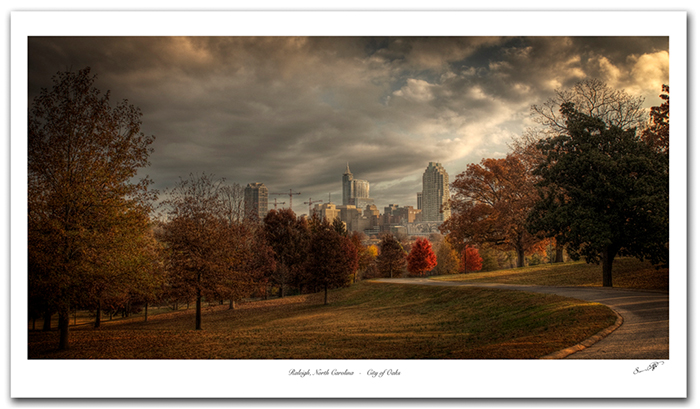 Your Blow Up image enlargement work of ACC basketball players was stolen right off the walls of a hotel. Did the police ever recover these?
No, they didn't recover the prints that I know of. I'm not sure the hotel even pursued it. The prints are probably sitting in some frat house. Since the hotel bought the work outright, it was insured, so we just redid them.
To see more of Simon's work, visit his website.
Try Exposure Today

Download our free 30-day fully functional trial and see why Exposure is the best photo editor for creative photographers to realize their artistic vision.