A photo booth gives event attendees a platform for fun group photos. At WPPI, in Las Vegas, visitors swarmed booths with hope for that one memorable, hilarious shot of themselves. A crowd with building excitement usually means fun, regardless of the time or place. These contraptions helped give the feeling of a enjoyable experience and solidified great memories. The best part: I could use it all by myself. All I had to do was tap a screen. Well, that and push the encroaching horde out of the way of the lens.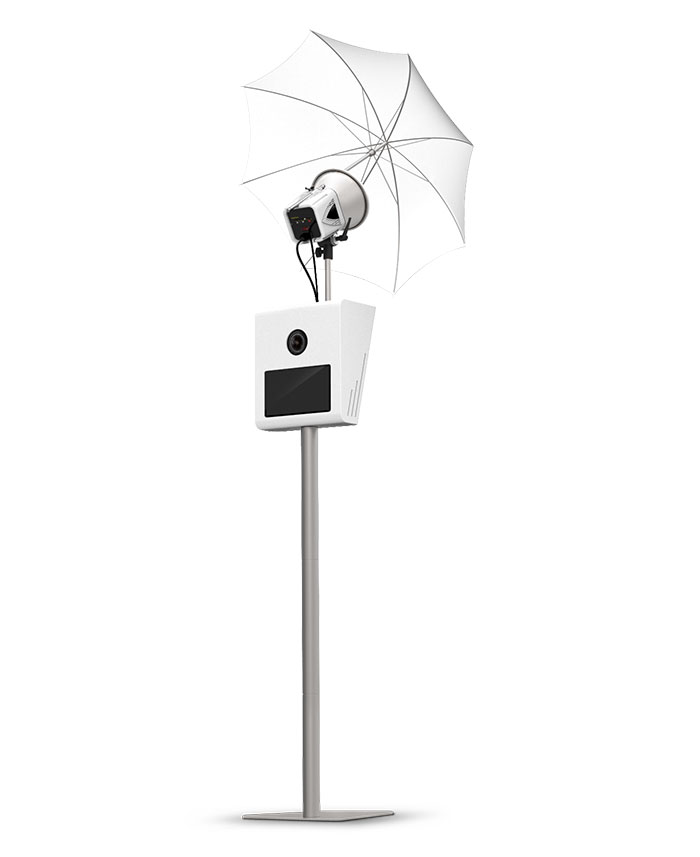 Syndication of event chatter is a good thing for a working photographer's bottom line. Extra buzz may not pan out as instant cash in your pocket, but it will certainly help you get noticed. Some of these photo booths have plenty of fancy automation features built in that instantly sling captured shots over to a smartphone, or they upload directly to social sites like Facebook. Meaning they're great for a large volume of super-fast social media coverage for the event. This kind of marketing integration is genius. It's the proverbial fish in the barrel situation for a photographer's outreach. **So is writing guest articles for blogs, but that's another topic.**
These booths are designed to be constructed with ease. Mostly, it's a quick and simple unzip the bag, pop out the unit, clip, snap, plug, and boom. Done.
There are a number of different booths on the market. Each of them have a different set of strengths. I prefer the open booth design because it draws a little more attention. In my mind, more attention means more fun photos, which means more buzz. One could argue that people won't get as silly in an open booth as they would in one with walls. I suppose that could be true, especially if the event didn't serve booze. Speaking of–you'd better make sure your booth is indestructible or at least take out a substantial insurance policy.
These photo booths could be considered selfie factories. And I mean that in the best possible way. Could this new trend of imagery impact expected coverage at events weddings? I wouldn't put it past the growing demands of today's brides. How hard would it be to add a slew of fun shots from the booth to your packages? More importantly, would it take some of the pressure off of you as the photographer? What do you think?
—
If you're interested, check out a few of the different photo booths on the market. This is not an exhaustive list, just a springboard to help you research.
Photobooth Supply Co uses a crisp camera and well known equipment, which is easily replaceable should something go wrong during an event. Brandon (the company owner) called me personally when I mentioned my interest in one of these. Talk about service!
The twineSTUDIO Photo Station allows for customizable slide-in panels. Most of the time, these are branded for the photographer. So, it's actually advertising you. Brilliant idea! It also has a small footprint, so it won't take up a lot of space. Twine.it has an integrated smartphone app called twineLIVE. Attendees scan a QR code or enter an alphanumeric code to access an album of event photos, which are uploaded as they are taken.
Snapshot Studio sports an extremely minimal design, so you don't have to worry about acquiring new gear. Just use what you already have and you're good to go.
Try Exposure Today

Download our free 30-day fully functional trial and see why Exposure is the best photo editor for creative photographers to realize their artistic vision.