Raise your hand if you've ever wanted to go to on an Iceland photo tour! ME ME ME! Oh wait, I just went there! But I'd love to go back and will.
Just a month ago I went on a three-day Iceland photo tour. I stopped in Reykjavik for a few days, en route to Ireland for a longer journey. While my time in Iceland was brief, it was pretty amazing. I decided to hire a car as I knew I'd want to explore beyond booking a tour. You know us photographers… we like to stop every two minutes and take pictures. Even if we shoot portraits or food for a living, we see beauty everywhere and want to capture it.
From New York I had a red eye, which meant I picked up my car around 7 am. As they say I hit the ground running–well, driving to the first destination on my Iceland photo tour.
A few traveling tips:
Planning beforehand is a really good idea, especially when going to a new place. Doing research, asking friends who've been there, etc… for places that you want to visit is really helpful. Even a simple post on Facebook about your Iceland photo tour can result in over a dozen replies and provide new options for you, too. Before I got there I had a basic outline of where I'd visit. This was especially crucial since my stay was such a short amount of time.
If you're planning a trip to Iceland, and want to drive yourself, be comfortable driving in somewhat snowy conditions. I haven't done research on the weather there regardless of the season. March meant there was still a chance of snow. I've definitely driven in snow, but the added elements of not knowing the roads or what random road conditions may occur meant I'd be extra cautious. Snow tires helped! :)
If you decide to rent a car, pay the extra cash for a GPS, my friend Ben recommended this and it totally made sense. Especially when driving in a country where you don't know the language (or very little of the language), let alone the roads! Some of the street names may have a lot of the same letters even in the same sequence, so have a list of things you want to see is super helpful.
Bring extra batteries for your extra batteries, depending on your camera, the batteries may drain quickly due to the colder temperatures, so I'd keep a battery in my pocket to swap out when I needed to.
Bring a couple of lens cleaning cloths with you, when shooting waterfalls you may get spray from the falls on your glass.
Have water, layers, or extra jackets and maybe even a blanket in the car. And snacks. On the road you'll never know what you may encounter so having these essentials can help get you through.
I was there in late March, so I assumed I would see some snow along the way and I wasn't disappointed. Stopping periodically I found the views were just fantastical, seriously, this image doesn't even do the place justice!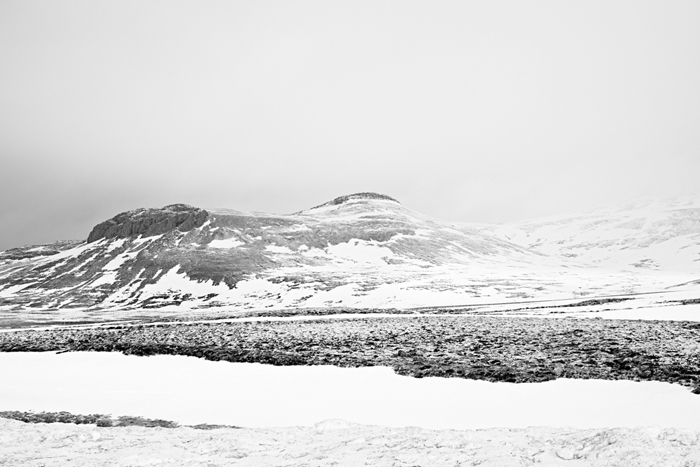 Alien Skin Exposure 7 | Polaroid 55 | 35mm f/1.4 | ISO 200 | f/4 | 1/480
After a couple of hours of driving, I arrived at Þingvellir National Park.
One of the popular stops within the part is a waterfall, which you have to do just a little hike to get up to. Parking at the base of this I gathered my tripod and pack started up the path towards the waterfall. There were only a few people about which for me was awesome. I felt I could take my time and enjoy the rush of the water hitting the rocks. And of course photograph it. Here I used my Fuji XT-1 with a 35mm f/1.4 lens and added a Cokin 9 Stop Variable ND Filter. Knowing I'd find waterfalls a plenty during my Iceland photo tour, I decided it was time I finally got a variable ND filter; these are so handy for a variety of things. But one of my main goals was to capture the water in slow motion; creating that cottony look we tend to love.
For a lot of these images I've been using a mix of Lightroom and Exposure 7 for processing. I'm finding several favourite filters in Alien Skin; I'll normally start with one and then make my own adjustments.
This is a rather moody snap of the waterfall, the sky was pretty overcast. In post I really saw this in Black and White, so I used the Polapan preset and did a few tweaks.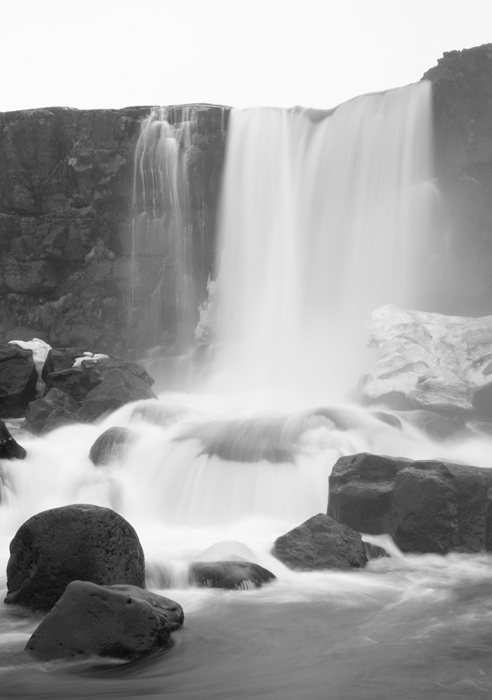 Alien Skin Exposure 7 | Polapan | 35mm f/1.4 | ISO 200 | f/13 | .8/sec
Turning my attention just slightly left I viewed this scene. Water flowing, crashing about the rocks, beautiful and powerful.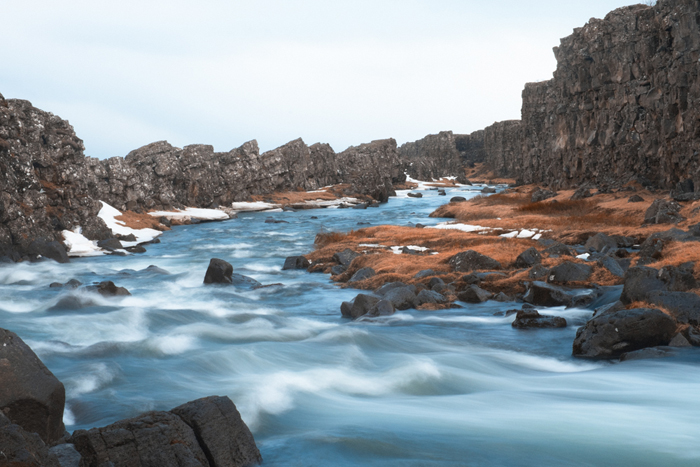 Alien Skin Exposure 7 | Technicolor Preset | 35mm f/1.4 | ISO 200 | f/16 | .8/sec
After hiking my way back down to the car I headed back towards the city, I was ready to check into my room for the night, have a little dinner and sleep. Now I was a bit early to checking in, so after I'd parked I walked towards the waterfront and was greeted by this. How beautiful! I kept searching for my pot of gold, but have yet to find it… one day!??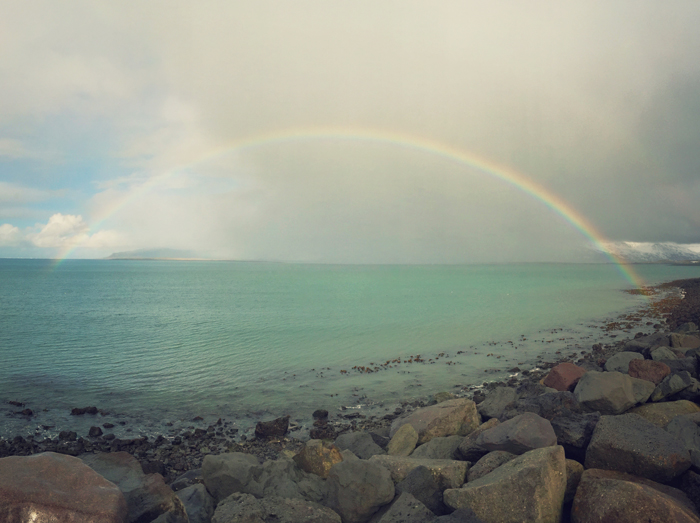 iPhone 6 + | Snapseed
Day 2 of my Iceland photo tour included the town of Vik. Vik is along the southern coast of Iceland and has Black Sand Beaches with gorgeous views. Originally I'd hope to make it as far as Jokulsarlon Glacial Lagoon–where there are reportedly some kick ass ice caves, but I'd gotten a late start and some of the roads were treacherous in daylight. I decided to go as far as I felt comfortable and head back before sunset.
Along the way to Vik I found, Skógafoss, a major waterfall. There were a number of people there, including tour buses, so should be an easy thing to plan if you don't want to drive and I'd say the views are worth it!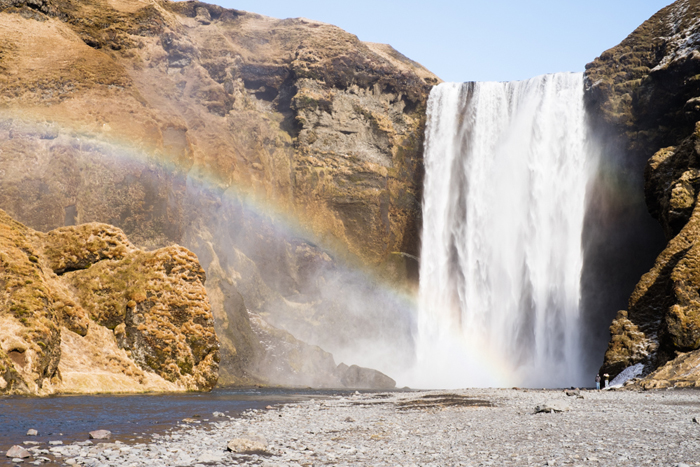 iPhone6+ | Snapseed
From here I found a spot along the coast called Dyrhólaey. It was a bit off the beaten path, but worth the detour. Every where I turned I found massive rock formations, beautiful coastal waters, and of course other people enjoying the views. You can climb up, down and all around. It's a great place for shooting.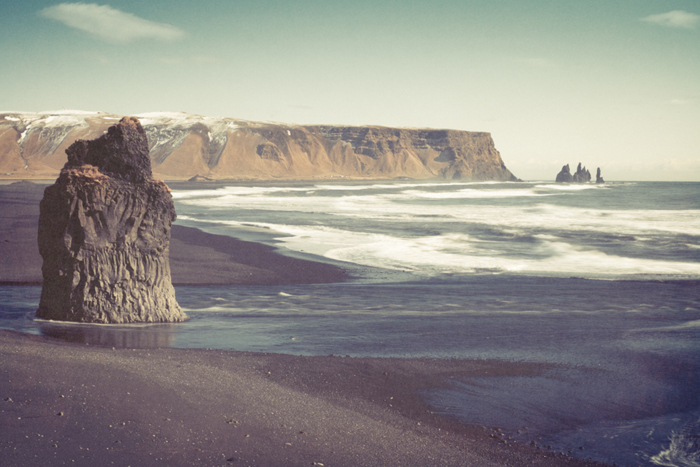 Alien Skin Exposure 7 | Polaroid 600_Darker | Fundy Finish | 35mm f/1.4 | ISO 200 | f/16 | 1.0/sec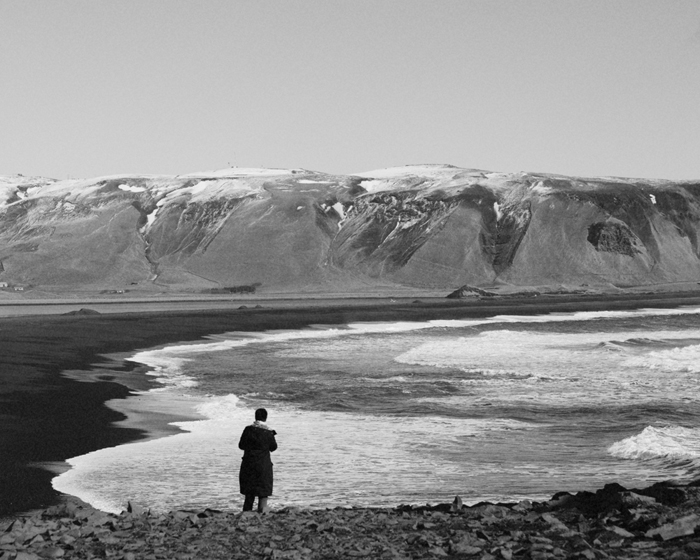 Alien Skin Exposure 7 | Daguerrotype | 56mm f/1.2 | IS0 200 | f/5.6 | 1/1250
And then I made it to Vik. Vik is a cute little town, there's this lovely church that sits atop a hill overlooking the town and coast. I drove towards the church first to park and of course take photos of it. The funniest thing was a week or so later I was chatting with someone in Ireland. We got into a conversation about Iceland and he mentioned a church that he wanted to get married in and I said "this church" and showed him a photo and he said yep! Small world moment, I thought.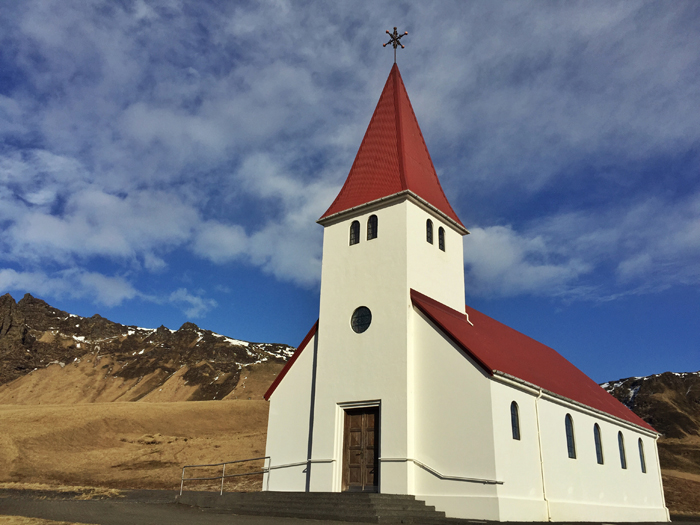 iPhone 6+ | Snapseed
From the church, I headed down to the water front, to walk upon the Black Sand Beach. I've been to beaches all over the US, and now Ireland and Scotland as well and never have seen sand like this. My understanding is it's due to the volcanic activity and such. I must say it's quite cool to see something so very different.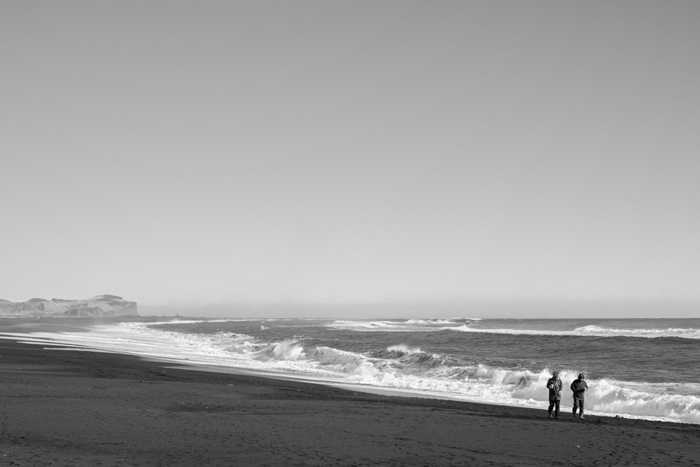 Alien Skin Exposure 7 | Fuji Acros Neopan 100 | 35mm f/1.4 | ISO 200 | f/5.6 | 1/550
These folks were enjoying the day, with a bit of lunch upon the rocky jetty that heads out into the water. What a view, don't you think??
Cyanotype-Soft | 35mm f/1.4 | ISO 200 | f/5.6 | 1/1800
You'll probably also want to spend at least part of a day exploring the town of Reykjavik, maybe more if you're into more urban spots. The main town has lots of little shops, with locally made goods sweaters, gloves , etc. There's a great little bakery: Bakari Sandholt which has eat in or take away options. I also came across a restaurant called Chuck Norris' Grill! (HA!) I didn't eat there, but the name gave me a laugh.
My last day on my Iceland photo tour included a bit of a walk through the town and on the waterfront, where this pretty awesome piece of sculpture resides: Sólfar – Sun Voyager by Jón Gunnar Árnason.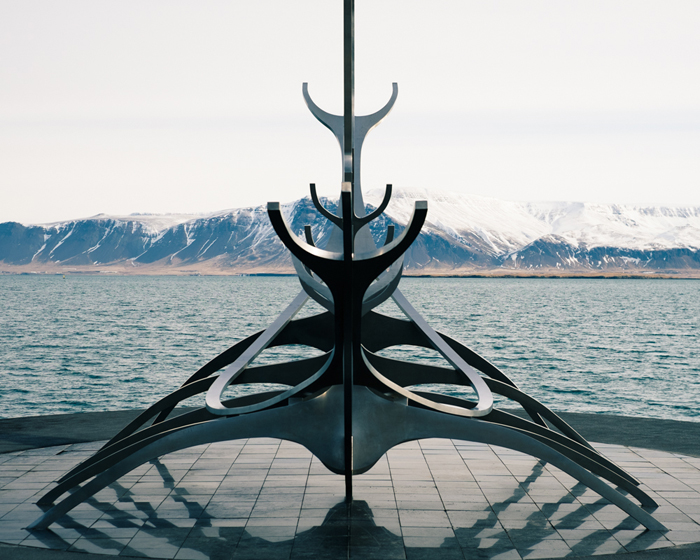 Polaroid 669 Shadows Cyan | 35mm f/1.4 – ISO 200 – f/3.2 – 1/2400
That's it, in a nutshell, somewhat, of my short but sweet initial Iceland photo tour! Where will you go on your next adventure???
Enjoy it!
~ kate
Try Exposure Today

Download our free 30-day fully functional trial and see why Exposure is the best photo editor for creative photographers to realize their artistic vision.