Before "Team Skin" went to Vegas for #WPPI2015, I put in an order for some new gear for our audio booth. I needed some equipment to make our tutorials that much awesomer. It wasn't mics, or baffles, or even software, but clips, hooks, clamps, and rods to attach the recording equipment in a minimal footprint.
The vocal booth is made for one thing: recording. Best way to do that: standing. The tiny area needed to stand means that this is a cramped space, but we can work with that. After a little TLC, it's ready for prime time. You just wait to see some new videos.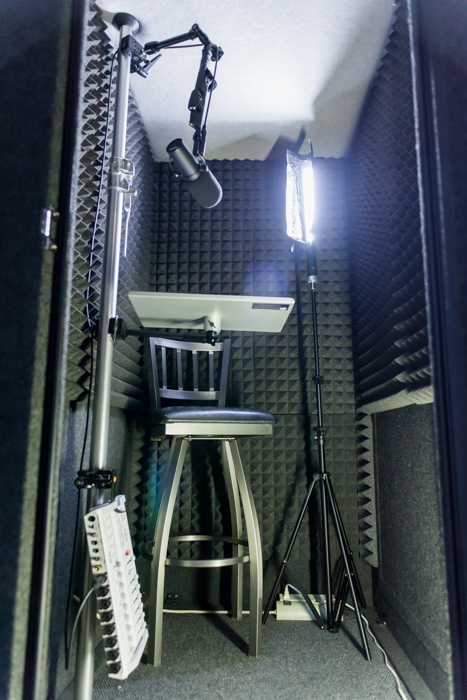 I needed a few compact, reliable mounting pieces for the mic, the recorder, a light, a place for a computer, and a camera. Where is the best place for mounting gizmos? Tether Tools.
I made a list with the help of the big guns–Brad Matthews, and placed my order. A few days later, a bunch of new toys arrived, but I didn't have the time to get to them before the convention. Once back, I broke them out of the boxes and assembled the gear. This couldn't have came any sooner. I'm jazzed to get recording again.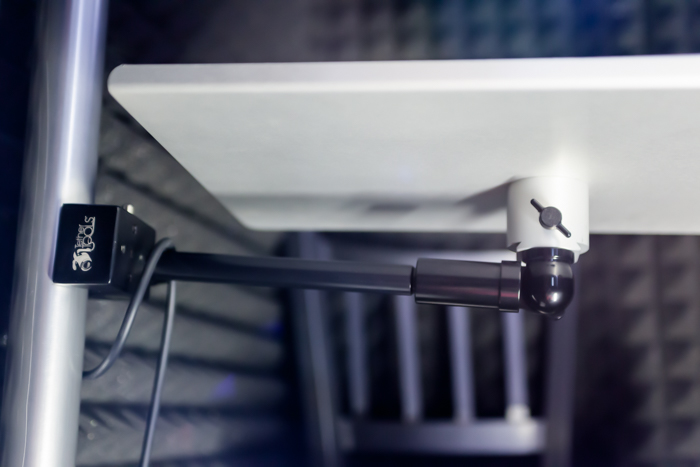 I took care of the basic setup one evening. Next day, I brought the final piece from home. The Aero Table. It made a fantastic adjustable workspace when paired with a tripod. I could adjust it to the perfect height for sitting or standing anywhere. I used it at my apartment for a while. Now that it's gone, I need an adjustable coffee table. *sigh* Oh well, it looks better in the booth anyway.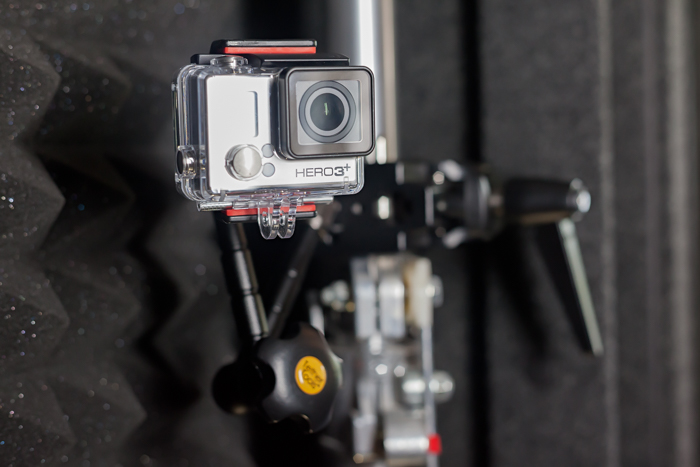 Mounted at the front of the booth is the little diddy pictured above. Oh yes, we've added a GoPro! Now you'll be able to watch me lose my top when I flub a line for the 15th time in a row. I'm sure there will be plenty of that happening. Ah, the joy of recording.
Tether Tools' Look Lock System, which is a super handy articulating iPhone mount, was repurposed to hold our beloved mini camera. The coldshoe mount on the system unscrews from the mounting end, which conveniently sports the same thread stock as a tripod head. Meaning, it fits right into a Rock Solid Master Clamp.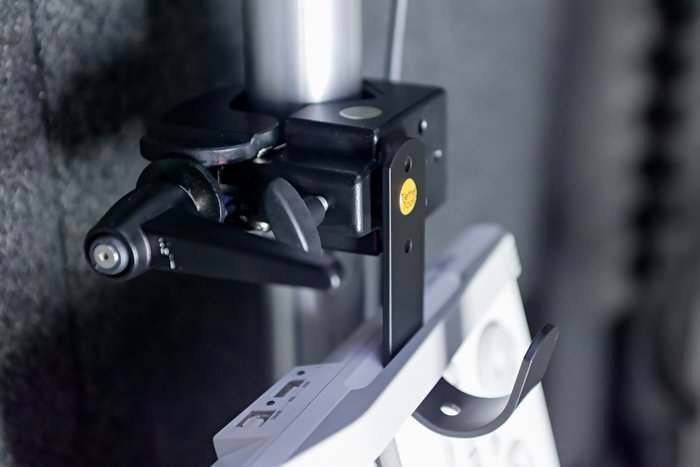 The digital recorder is hung on a single J Hook down below the Aero Table. The jury is out whether this is the best solution for mounting the unit. It's not very easy to access the recorder because of its position. I'd like to have it mounted horizontal, somewhere out of frame.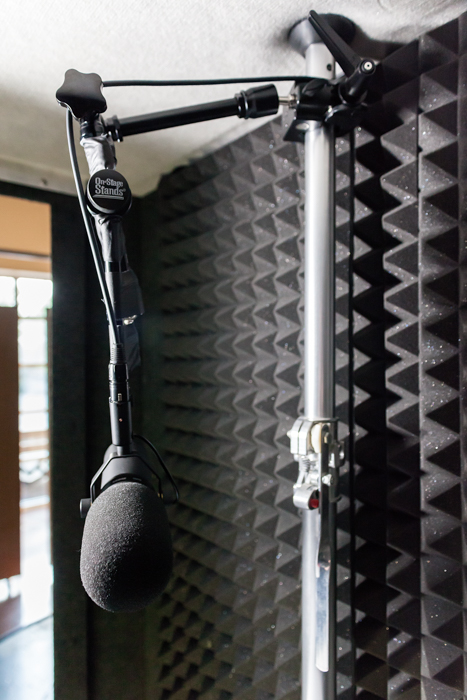 The mic mount articulates to any position thanks to the Articulating Arm, but the thread on the mic is different size than common photo gear mounts. Because of that, I made due with what I had. #redneckengeneering #everythingisbetterwithgriptape
For you audio folks out there, don't worry. The model of mic that I use has an "internal air-suspension shock and vibration isolator" which nixes the need for a shock mount. Meaning feedback from the Autopole shouldn't make it into the recording.
Here's a question for all of you:
Don't be shy, peeps. I'm happy to hear any suggestions that you have. I need something to wall-mount the recorder. I'm sure someone out there has a brilliant idea for this.
Try Exposure Today

Download our free 30-day fully functional trial and see why Exposure is the best photo editor for creative photographers to realize their artistic vision.