Put your hands together for the winning entry in our latest monthly photo competition. As a quick reminder, February's photo-sharing theme was Story.
Judges
We introduced new voices to the conversations we have about the judging the winning image each month. This time, Jamie and Heather Schneider from Dark Roux joined as honored guests. The process of choosing the winner stays basically the same. We select a pool of top shares from the group, like usual, then we argue/discuss about which one should win.
Winner
Congratulations to Miguel Quiles!
Our judges said, "The lighting really drew us into this shot. It looks moody, yet natural. The people in the photo have a solid connection to each other without touching, and the composition is awesome. The treatment of the image is pleasing as well. This is nicely done!"
Miguel Quiles has talent for making great-looking stuff. As part of being the monthly winner, he gets a bunch of goodies, including a blog feature. Here is a little more info about him.
How long have you been a photographer?
I've been into photography for 17 years, with 4 of those years working professionally. I started dabbling in photography when I got a job at a camera store right out of high school. The position gave me a lot of opportunities to play with a bunch of different cameras, which helped me learn how they work. I'm self-taught and have never studied photography formally in school.
How would you describe your style?
My style is all about mood and expression. I love working with people and making them look and feel their best through the art of photography. One of my recent favorites is from the Sony G-Master lens announcement event in NYC last month. The set helped me produce some of my most unique images to date. Personal work is crucial for artists! It's the key to staying inspired. I have been shooting personal assignments at least once a week over the past 4 years. This practice let's me discover what I like creatively and what I don't.
If you had to choose one lens which one would it be and why?
I love lenses, but if I had to choose just one it would be an 85mm. The majority of my work has been shot using one. My favorite non-camera accessory is my Wacom tablet. That tool transcended my post production efficiency.
Do you work with an assistant? What do you look for in them?
I currently don't work with an assistant all of the time, mainly because I haven't had the need. I'm giving it more consideration lately. My shoots are getting complex, so it would be nice to have another set of hands. Punctuality is one of the most important attributes for any assistant in my opinion. They also need to be sociable and friendly. There's nothing worse than spending time with someone who is negative all the time, so I would only consider candidates that are full of positivity.
The hardest part of your job?
The hardest part of my job would have to be post-production. The more I've learned about retouching, the more time I spend doing it. It's hard to find a balance between quality and time, which is one of the main reasons I like Exposure. I love the speed. If the software can give me back editing time to spend on other business, it's making me money. I like that.
Do you offer workshops and if so, tell us a little about them?
I teach one-on-one workshops at my studio in NJ, but my main education channel is Adorama. I host their show, "The Breakdown" on AdoramaTV.
How has Alien Skin's software changed how you process your photos?
Exposure changed my process entirely. It produces the 'high end' look that I'm after without sacrificing quality or time. Every minute spent in post production could be spent building my business in other ways, so I appreciate the speed it gives me the most. My typical photo workflow is RAW processing in Capture One, and then I clean up the image and remove distractions in Photoshop, and Exposure adds the finish.
Learn more about Miguel on Facebook, Instagram, Twitter, or his website and blog.
Prizes
Photo of the Month award winners receive a few swanky items from Alien Skin Software. They get one of our super soft American Apparel t-shirts, a laser-engraved 16gb thumb drive loaded with all of our photography software, and best of all they are featured here on the blog.
Monthly Theme
The monthly photo-sharing theme for April is Positive. If you'd like to enter, get your best choice shot posted before the 1st of April. Stay connected with all of the happenings in the group on Facebook.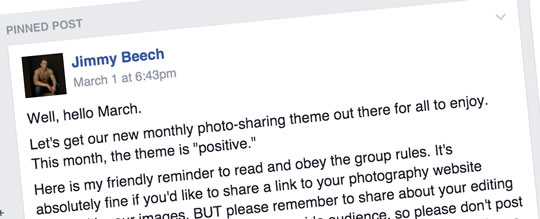 Runner Ups
There are plenty of fantastic shots posted last month that we'd like to share. A few of the top liked shots are displayed below. Congratulations to everyone that submitted. These are amazing!
Try Exposure Today

Download our free 30-day fully functional trial and see why Exposure is the best photo editor for creative photographers to realize their artistic vision.