The time has arrived to announce our next monthly photo award winner! Just below we crown our new photo-share king or queen. Before the fun begins, I'll remind you a minor adjustment made to our competition for 2016. Our tallying officially happens on the first of each month.
January's photo sharing theme was Your Best Shot of 2015.
Winner
Russ Jackson's eye-poppingly gorgeous portrait of a young woman took the winning spot for last month. Marvelous work, Russ!
Let's give you a little info about Russ and his wonderful talent for creating high-caliber photography. As part of being the monthly winner, he receives a bunch of goodies, including a blog feature. So here is a little more about him.
How long have you been a photographer?
I've always had an interest in photography. I'm mostly self-taught. I have been a professional photographer for 15 years and have long plans to continue. It's been a passion of mine since I was a young teenager.
How would you describe your style?
I like a natural feel to my photography. I love organic colours and textures and hope to capture real expressions. A beautiful children's portrait is much more than just a smile.
If you had to choose one lens which one would it be and why?
I am absolutely in love with my 50mm F1.4 Sigma Art lens. It is absolutely sublime.
What is your favorite photography accessory, other than your camera?
It's kind of silly but by absolute favorite accessory is my owl. I have one that works great to get eye contact with young children. It fits snug to my lens.
The hardest part of your job?

I find it most difficult to cull images for a clients gallery.
Do you offer workshops and if so, tell us a little about them?
I offer workshops and 1:1 training for newborn photographers at our studio in London. We keep them small, at just four attendees. We will cover everything an aspiring photographer needs to learn about newborn photography.
How has Alien Skin's software changed how you process your photos?
I love Exposure and the way it adds an organic, earthy feel to my images. It gives my work extra wow factor!
Learn more about Russ on Facebook, Instagram, or his website.
Prizes
Photo of the Month award winners receive a few sweet items from Alien Skin Software. They get one of our super soft American Apparel t-shirts, a laser-engraved 16gb thumb drive loaded with all of our photography software, and best of all they get are featured here on the blog.
Monthly Theme
The monthly photo-sharing theme for February is Story. Make sure to get your best choice pic for that topic posted before the 1st of March.
Stay connected with all of the happenings in the group on Facebook. The announcement post for the new monthly theme will be made on the first of each month.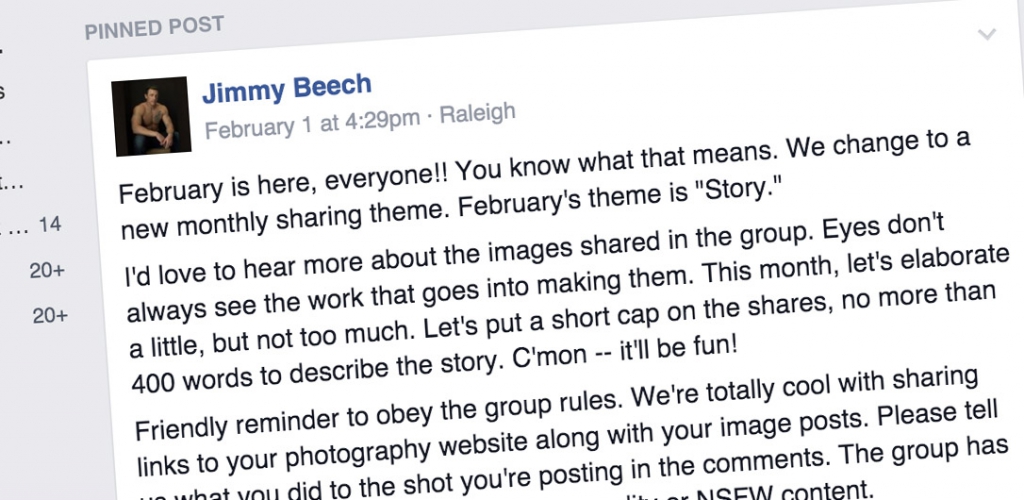 Runner Ups
There are plenty more top choice shots, some of them are listed below. Congratulations to everyone that submitted last month. These are beautiful!
Try Exposure Today

Download our free 30-day fully functional trial and see why Exposure is the best photo editor for creative photographers to realize their artistic vision.